Selected Articles and Essays by Paul Wilson
Some of these articles are available on this site in PDF, scroll down and see! You will need a copy of Acrobat Reader to open the PDF files.


Ottawa in Behemia - Saturday Night magazine - February 2005
The Real Havana - Toro magazine - March 2005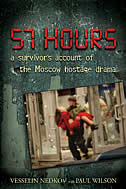 57 Hours: A Survivor's Account of the Moscow
Hostage Drama by Vesselin Nedkov and Paul Wilson
From the Publisher:
This gripping first-person account of the Chechen hostage crisis has all the elements of a Hollywood movie: guns, martyrs and intrigue.
To celebrate the last night of a business trip in Moscow, Vesselin Nedkov and a friend picked up two tickets to the hottest show in town: the ground-breaking Broadway-style musical, Nord Ost. Halfway through the show, his life was changed forever.
57 Hours is Nedkov's harrowing account of being trapped between two immovable and unpredictable forces: inside the theatre, suicidal Chechen rebels, loaded with explosives, demanded an end to the bloody civil war that was ravaging Chechnya; outside, Russian special forces prepared to storm the theatre, refusing to negotiate with the rebels.
Through fifty-seven hours of fear and fatigue, surrounded by desperate, trigger-happy terrorists and parents pleading for the release of their children, Nedkov discovered courage and ingenuity he never knew he had. In the end, 127 innocent people lost their lives, most succumbing to gas used by the Russian forces to facilitate their dramatic rescue.
Taking us into the maelstrom of the civil war that still plagues Russia, 57 Hours reminds us that in today's unpredictable world, we too can become victims of far-removed conflicts and that we too must have courage and determination to protect the values of our civilization.
The Best Seat in the House," an article on the sale of hockey memorabilia from Maple Leaf Gardens, Saturday Night Magazine March 17 2001.
"Urban Legend," an interview with Jane Jacobs, Saturday Night Magazine, March 2000.
"Vaclav Havel in Word and Deed," a critical appreciation of President Havel's first 8 years in office in Critical Essays on Vaclav Havel ed: Marketa Goetz-Stankewicz and Phyllis Carey. G. K. Hall & Co. New York. (1999)
"When Absurd was Normal," an essay on Czech samizdat Literature, Books in Canada, May 1998.
"Giving Free Rein," a conversation with Rohinton Mistry, Books in Canada, March 1996.
"An Unlikely Hero," on Alexander Dubcek, The New York Review of Books, December 15 1992.
"Czechoslovakia: The Pain of Divorce," The New York Review of Books, December 15 1992.
"The Gardener of Bratislava," an unsigned 'comment' on Alexander Dubcek's funeral, The New Yorker, December 7 1992.
"The End of the Velvet Revolution," The New York Review of Books, July 17 1992.
"Living Intellects," in Goodbye Samizdat: Twenty Years of Czechoslovak Underground Writing, ed. Marketa Goetz-Stankewicz, Northwestern University Press, Evanston. (1992)
"Growing up with Orwell," Best Canadian Essays, Fifth House, Saskatoon. (1991) Read this article now in PDF
"Keepers of the Looking Glass: Some thoughts on Translation," The Brick Reader, Coach House Press, Toronto. (1991)
"Inside the Revolution," Saturday Night, November 1990.
"The High Road to Democracy," The Idler, September/October 1990. Read this article now in PDF
"The Mobilizirungseffekt," The Idler, March 1990.
"Religious Movements in Czechoslovakia: Faith or Fashion?" Crosscurrents No, 7, Ann Arbor, 1998. Read this article now in PDF