Selected Translations of Josef Skvorecky
by Paul Wilson
Click on a title below to view covers, summaries and full bibliographical information:
---
The R epublic of Whores, Josef Skvorecky. Knopf Canada, Toronto. (1993)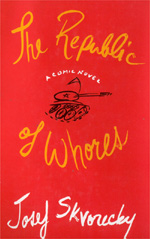 In a time not long ago, on an army base in rural Czechoslovakia, the draftees of the Seventh Tank Battalion gird themselves fro the inevitable war with America….
Among them is Tank Commander Danny Smiricky, torn between two irresistible women, and dreaming of his approaching release from army life - a release directly threatened by his boisterous and hilariously independent minded tank crew. But the greatest danger to Danny is his politically correct major, a tiny termagant known as the Pygmy Devil. The major will sell his soul for Soviet accolades. The troop, on the other hand, will do everything possible to undermine their Soviet loving officers. And on the eve of Danny's discharge, disaster looms….
This is life in the People's Democratic Army at its most insane, bawdy and raw.
It's a romp through the idiocies that prevailed under Stalinist communism - and that bred both fear and nonsense. Behind the comedy of this exuberantly lustful tale lies a savage parody of life under the Soviet boot. But clearly, despite all the rules and regulations of oppression, the human spirit has a way of triumphing.
Seized by the Czech censors, The Republic of Whores was not published in Czechoslovakia until 1989, after the fall of Communism. The novel was first published in France in 1969, and in the original Czech in 1971 by 68 Publishers, Toronto.
The Republic of Whores at Amazon.com
The Miracle Game, Josef Skvorecky. Lester & Orpen Dennys, Toronto; Knopf USA; Faber & Faber, London. (1991)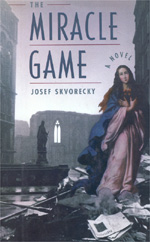 In a small chapel in the Bohemian countryside, a statue of Saint Joseph bows in blessing. The priest and congregation celebrate this miracle with triumphant joy, but Danny Smiricky-who has been dragged to church by one of his students to atone for some delicious mutual sinning-is troubled by the phenomenon, and haunted by the tragedy that follows. Not until after another "miracle" almost 20 years later-the Prague Spring of 1968-does he sort out the tangled threads of this disputed act of God.
The Miracle Game sets the hilarious tale of Danny's early life-with his hapless romantic entanglements and his endless narrow escapes-against the dark ironies of the Prague Spring and the Russian invasion that crushed it. We meet school principal Ivana, a Houdini of Communist ideology who can always find an out; beautiful, ice-hearted Laura, for whom politically correct ends justify any means at all; jovial Ponykl, whose mulish obtuseness makes him an invaluable servant of the regime; First Secretary Dubcek, whose over-ambitious reforms lead to catastrophe; Hejl, the incurably optimistic world-class playwright whose political idealism remains unsullied; and of course the green-eyed Vixi, entrancing and exasperating femme fatale of Hronov girls' school… A magnificent black comedy on eternal themes.
The Return of Lt. Boruvka, Josef Skvorecky. Lester & Orpen Dennys, Toronto; Norton, New York; Faber & Faber, London. (1991)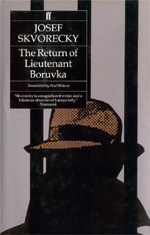 In his last appearance-The End of Lieutenant Boruvka-the pudgy, mournful police detective had finally rebelled against the perverted 'justice' of Russian-occupied Czechoslovakia-and his courageous revolt had landed him in prison. But now a daring escape plan has whisked him to Toronto, where his daughter works for a feminist detective agency. And when a young woman is murdered-perhaps in a simple crime of passion, perhaps in a tangled spy cover-up-the doleful detective lends his years of experience to the neophyte Canadians on the case.
Of course, murder is familiar ground for Boruvka, a man whose worst suspicions about human nature are invariably fulfilled. But Canadians prove to be a mystery that defies solution.
In The Return of Lieutenant Boruvka, Josef Skvorecky offers us not only a sly and devious murder mystery, but also a comic confrontation of the Old World and the New that pokes fun at both sides of the cultural divide.
Dvorak in Love, Josef Skvorecky. Lester & Orpen Dennys, Toronto; Chatto & Windus, London. Knopf USA. (1986)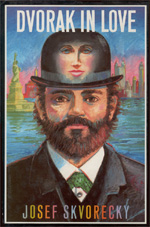 From the winner of the 1984 Governor General's Award, the master of "that modern specialty, the heartbreaking bellylaugh" (Time)-a wonderfully imagined novel about Anton Dvorak's love affair with America, with music, and with the Bohemian Countess Josephine.
Splendid and many-faceted, Dvorak in Love evokes the life of a great musician, and a nearly forgotten piece of European and American history. At the height of his prodigious powers, in 1893, Anton Dvorak was persuaded to leave his native Bohemia to come to New York to be Director of the National Conservatory of Music. Out of this brief biographical footnote, Skvorecky has fashioned a brilliant tale: the story of the composer's lifelong love for his sister-in-law Josephine; his passion for America' and his championship of black musicians. Surrounding Dvorak is an unforgettably rich cast of characters-many of whom made their own mark on history.
We hear the voices of singer Sisteretta Jones, and Harry T. Burleigh-composer of many famous Negro songs of the day-discovered by Dvorak while working as a janitor at the conservatory…the voice of Dvorak's lovely fourteen year old daughter Otylia, who elopes with her father's American secretary…Dvorak's sharp tongued wife, Anna…and the voice of Josephine, Anna's lovely, fragile sister whom Dvorak loved passionately until her tragic death. Through their voices and their eyes we experience the New World at the turn of the century, brought vibrantly to life by Skvorecky. This is a tragicomedy imbued with music and artistry and wonderful brio.
The Engineer of Human Souls, Josef Skvorecky. Lester & Orpen Dennys, Toronto; Knopf USA. (1984) Winner of the Governor General's Award for fiction, 1984.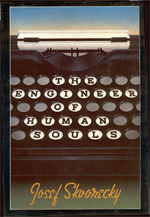 The Engineer of Human Souls is a powerfully resonant epic novel. It bridges the Old World and the New - and it ranges in time from 1939 to the present, from the shadows of Nazi Europe to the deceptive calm of a Canadian campus.
Danny Smiricky is a Czech writer who fled his country in 1968 to find asylum in the sheltered world of Edenvale College in Toronto. His New World is an Eden which he sees with Old World eyes: he is touched and exasperated by its political innocence, wryly amused by the hilarious counter-revolutionary schemes of his fellow émigrés, tormented by the Soviet secret agents who dog his footsteps, and he succumbs to the determined flirtations of his prettiest student. At the same time he is undone by memories…of a homeland as lost to him as his youth…of Nadia, the factory girl who was his co-saboteur and, to his astonished delight, his first lover…of his career as girl-chaser and feckless hero of the Resistance in a small Bohemian village under the pall of the Nazi occupation, and later under Stalin…of a world of heroes, traitors and innocents. This montage of past and present is at once Danny's story and the whole sorrowful history of East and West since the war-beautifully told in a wise, funny, bawdy, marvelous novel.
The Engineer of Human Souls at Amazon.com
The Swell Season, Josef Skvorecky. Lester & Orpen Dennys, Toronto. (1982)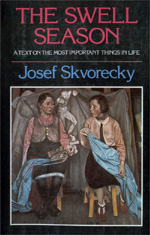 Josef Skvorecky's The Bass Saxophone was hailed as poignant, satirical, funny," (The Toronto Star) and "the finest fiction ever written about jazz," (The Village Voice); it was named Editor's Choice by the New York Times Book Review and Book of the year by The Guardian.
Now, in the six tales of The Swell Season, Skvorecky traces the libidinous ardors of young Danny, a teenager growing up in the forties. Danny boasts of his conquests with fine bravado, and longs to turn his fantasies into reality; but no matter how smoothly he woos, it seems he is always to be foiled. Golden haired Marie, brown-eyed Irena, bewitching Karla-Marie,--Danny is rejected by them all. Fortunately his elusive love life is balanced by his friendship with "the guys", who share his physical yearnings and-perhaps more important-his consuming passion for jazz.
The Swell Season at Amazon.com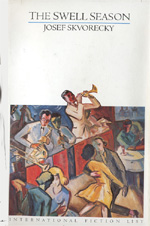 These are wonderful tales, full of wry humour and unexpected plot twists, and they add up to a fond portrait of a seemingly more innocent era. But this is more than entertaining nostalgia-for Danny's home is in wartime Czechoslovakia, and his fragile world of adolescent schemes exists under the shadow of the ruthless Nazi presence.